Over the years I've heard about Jhentea's Taiwanese oolongs, so when I saw they had partnered with Tea Rebellion, I quickly purchased some!
Jhentea is a Taiwanese family-owned business that has been making tea since the 19th century. The business is led by tea masters Fu Chen and her daughter Ai Fang, who is a 4th generation tea farmer. Jhentea focuses mainly on oolongs, which is why I wanted to try this tea!
Description: "Forever Spring is named for its cultivar, Si Ji Chun, or "Four Seasons Spring." While most tea bushes can only produce tea 2-3 times a year, this variety is constantly flushing, as if forever in springtime. This means that tea farmers enjoy abundant harvests from this fast-growing, hardy cultivar. It produces mild, sweet teas with a striking floral fragrance."
Instructions: 6 gram per cup | 98°C/ 208°F | 1 minute | five infusions | pre-warm tea pot/cups before brewing
Review: During the spring time, a fresh vegetal and floral oolong seemed perfect. The tightly rolled dry leave were a dark forest green colour with lighter green steams. The leaves had a honey, floral, and spinach smell. Jhentea suggests steeping for five infusions for 1 minute, 30 seconds, 30 seconds, 40 seconds and then finally for 50 seconds, respectively.
Pre-heated gaiwan: After pre-warming the gaiwan, I added the dry leaves into the cup, which warms the leaves and releases the aroma of the tea. It had roasted baked bread, sweet dates, and a honey smell.
Infusion 1 (1 minute): After steeping the tea, the liquor was a pale, almost transparent, yellow colour. When opening the gaiwan, there was a strong vegetal smell. The liquor tasted floral, nutty, and vegetal like wheatgrass, but was not overpowering. When cooled, the liquor was more vegetal with honey and a floral taste.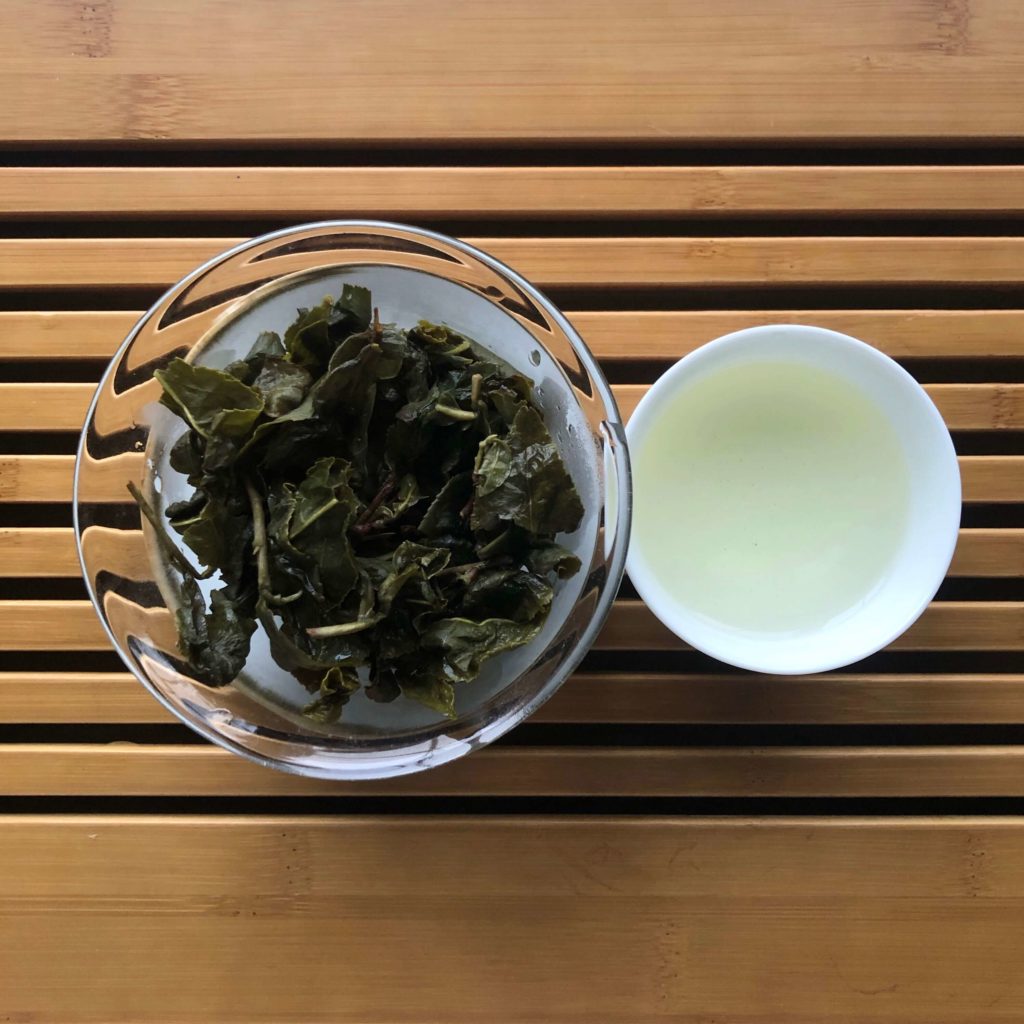 Infusion 2 (30 seconds): The pale yellow-green colour liquor had a scattering of fuzzy tea hairs floating on the top of the tea. The tea had a stronger vegetal (wheatgrass/spinach) taste with lingering floral, and nutty notes. The sip ended with some faint dryness at the back of the throat.
Infusion 3 (30 seconds): After steeping, the liquor was a light yellow colour. It had a stronger vegetal note with a mellow floral characteristic and dryness at the back of the throat.
Infusion 4 (40 seconds): The liquor was more mellow than previous infusions with some vegetal, fresh cut grass notes and astringency at the back of the throat.
Infusion 5 (50 seconds): The liquor had a strong grassy taste but the liquor was mellow and delicate with bitterness at the tail end of the sip.
The wet leaves unfurled into a unified dark forest colour and were mostly full of leaves and some steam. The wet leaves had a roasted, nutty, vegetal, grassy, and floral smell.
Overall, this was a nice tea with a range of flavours from nutty/roasted, to floral, and vegetal. I understand now why Jhentea's are so highly regarded! I tasted this tea using both 70 ml and 100 ml giawans and the flavour was more apparent in the smaller giawain.
For an afternoon snack, I paired this tea with some cheese and homemade brownies. The roasted quality of the tea brought out the rich nuttiness of the brownies. Lastly, as of posting this review, the tea recently sold out at Tea Rebellion, but this is a staple tea of Jhentea, so it will most likely be restocked in the future and is also offered by other companies as well (3.5/5 rating).
Type: Oolong tea
Origin: Taiwan
Caffeine: Unknown
Ingredients: Oolong
Company: Tea Rebellion
The question of the post: What tea farm do you want to taste tea from?