One constant of Lu Ann's blog, The Cup of Life, is afternoon tea. She has a wealth of posts ranging from information to recipes such as scones. So, it only fitting for her to write her own book on the topic!
Description: "The Afternoon Tea Guide was created to help you host the traditional tea service at home confidently and stress-free."
Overview: While I always liked the idea of afternoon tea, it wasn't until I met Lu Ann and saw her love for it, did I grow interested in it as well. I learned about afternoon tea from her blog and tried some of the recipes – one of the first recipes I baked was her scones! So, when Lu Ann asked if I wanted an early peek at her eBook, I excitedly jumped at the chance to help her test some recipes and provided feedback. Therefore, I will not be rating this eBook due to my minor involvement with its creation. However, I still wanted to share this book because it is a comprehensive guide to creating an afternoon tea experience at home!
The Afternoon Tea Guide is currently available in eBook format and comes with a 50+ page PDF and 12 printables ranging from lists to customizable invitations and menus. The printables are editable and can be printed separately. The eBook covers information regarding afternoon tea such as the history and proper etiquette, as well as 13 recipes to pick and choose, tips and a temperature conversion chart! Despite the wide range of recipes on her blog, 11 of the recipes are new to the eBook!
I created afternoon tea for one and made:
Cucumber & Dill Cream Cheese Tea Sandwiches
Apple Cheddar Tea Sandwiches
Classic English Scones
Faux Clotted Cream
Lemon Curd
Lemon Glaze Shortbread
Raspberry Palmiers
Tea Sandwiches
Throughout the book, Lu Ann provided tips and tricks to make each recipe. For example, I didn't know there was thinly sliced bread that you could buy in loaves! I picked the Cucumber & Dill Cream Cheese because it is such a classic sandwich and also apple cheddar because I like the contrast between sweet and savoury. For the cheddar cheese, I ended up getting sliced aged white cheddar which paired nicely with the apple.
Scones
I debated about baking the other scone flavour (honey lavender), but since I sometimes find lavender a bit perfumed for my taste, so kept with the classic since I had enjoyed it in the past. I followed her tips such as using cold butter and not twisting the cutter and I got perfect fluffy scones!
Scone Toppings
I could not get my hands on clotted cream, so I made the faux version which was quick and simple and I had enough to add a generous dollop on each side of the scone! It had a nice tangy taste from the mascarpone cheese. I also made lemon curd, which was a bright yellow and citrus. Make sure to follow her tip and do not use metal equipment or you will get a very metallic-tasting lemon curd!
Sweet Recipes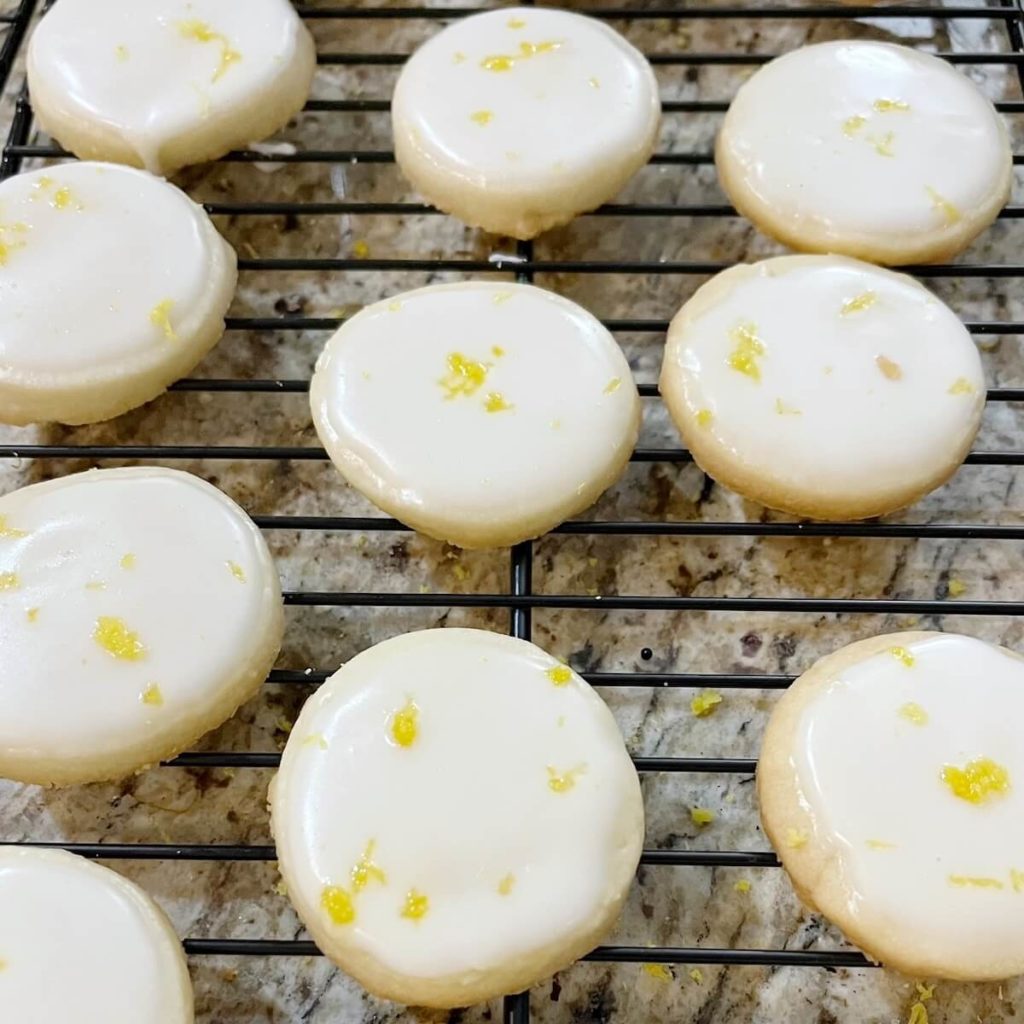 Since I had lemons from the lemon curd and I am a shortbread fan, the lemon glazed shortbread cookies were a perfect match! I ended up using round circle cutters and added some lemon zest on top as decorations. Of all the recipes I did make, the only one I did struggle with was the raspberry palmiers, however, that is my own fault because I did not read the recipe correctly and defrost the puff pastry ahead of time so the palmiers did not fully puff up. If I had made them correctly, they would have looked lovely. I also opted to use pre-made raspberry jam, however, the book did come with a recipe for jam too!
Overall
I always want to make afternoon tea at home and Lu Ann helped me accomplish that feat! I split up the making recipes over two days where I made the scones, shortbread cookies, and curd on the first day, and then the following day I made the faux clotted cream, sandwiches and palmers. I was able to make it over one weekend and had leftovers!
I enjoyed the linear presentation of the book which introduced afternoon tea, provided history, and a brief overview then dove into the recipes. It really felt like a "guide" as it was informative and provided a roadmap for me. The recipes were clear and easy to follow and each one had pictures which were useful because I like to know what the final product will look like. While I was only making afternoon tea for myself, the printables were cute and I liked that some were customizable and others were ready to be printed right away.
I would recommend this eBook to someone who wants to learn more about afternoon tea and have the elements of it broken down into easily digestible sections, wants clear and simple recipes, enjoys afternoon tea or wants to make afternoon tea at home, like me!
Format: eBook
Year: 2022
Page: 58 pages + 12 printables
Website: The Cup of Life
Lu Ann kindly provided me with a discount code for my readers! Use the code TIS15 at checkout to save 15%! Her eBook can be purchased through her website. This is not an affiliated link or code.
If you want to read more books by Lu Ann, she also wrote Tea-spiration!
Liked this post about Lu Ann Pannunzio's The Afternoon Tea Guide eBook? Pin it!