When I first saw these boxes on social media, I was intrigued! Who can say no to the "world of tea" being delivered right to your doorstep?
Description: "Taste the World of Tea is designed specifically to help you explore all the facets of tea flavors!"
My tea friend, Lu Ann from The Cup of Life, introduced me to Plum Deluxe. I had considered the brand for some time then saw their yearly Taste the World Tea collection and had to get it! There are two boxes: caffeinated and caffeine-free. Each small box comes with 11 tea samples nestled together. The tea samplers contain enough tea for 3 cups. 5 of the blends were pre-existing and 5 were exclusive to the boxes with a surprise bonus sampler.
The boxes also came with a tasting card which provided suggestions on how to brew the teas, as well as a world map. Based on the map, the green teas were from Japan, the black teas were from Sri Lanka, and the white, oolong and puerh teas were from China. The fruits, nuts and florals were from the USA and the spices were from Morocco. It also came with an online 5-day tea basic guide.
I purchased both the caffeinated and non-caffeinated boxes, but this post will primarily focus on the caffeinated version. It came with the following tea blends:
| Tea | Type of Tea |
| --- | --- |
| Cinny Roll* (Exclusive) | Black/Rooibos |
| Comfort Blend* | Black |
| Botanical Bliss (Exclusive) | Green |
| Citrus Mint | Green |
| Coco-Mango Dream (Exclusive) | White/Green |
| Lavender Daydream | White |
| Passion Rose (Exclusive) | Oolong |
| Toasted Nut Brulee | Black/Oolong/Rooibois |
| Plum (Exclusive) | Puerh |
| Red Velvet | Puerh |
| Uplifting Coconut* (Surprise Bonus) | Black |
*As I am sensitive to cinnamon, sadly, the caffeinated (and caffeine-free) box had 3 tea samples that I could not drink. I was aware prior to purchasing the boxes that some of the teas would have cinnamon. That being said, I will be sharing my top 4 caffeinated teas, listed in the order from the tasting guide (above).
Coco-Mango Dream White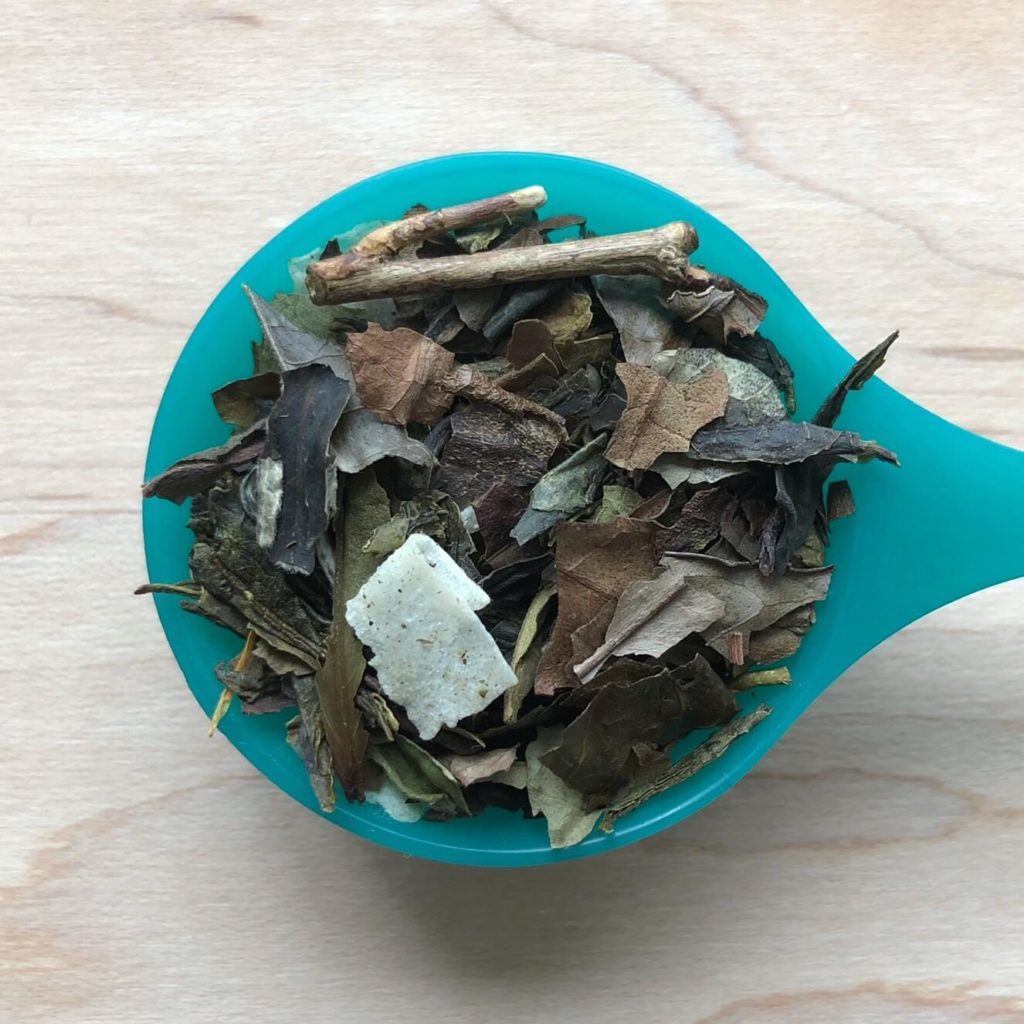 When opening the sampler, there was a fragrant smell of coconut and mango which reminded me of a tropical drink or candy. After brewing for 3 minutes, the liquor was a medium amber colour. There was a thin oily film on the top of the liquor which I have noticed with other coconut blends. The taste lived up to its name and had forward flavours of coconut and mango, and was overall sweet and tropical. The pairing of mango and coconut was a nice combination!
Type: White and Green Tea
Ingredients: White Tea, Coconut Pieces, Mango Pieces, Green Tea, Calendula, Coconut/Mango Essence
Toasted Nut Brulee Oolong
Living up to the 'toasted nut' and 'brulee' portions of the blend's namesake, the dry blend had a rich nutty and burnt caramel aroma. After 5 minutes, the deep reddish brown liquor imparted a sweet, nutty, and burnt sugar smell. The liquor was syrupy and tasted sweetly of caramel, vanilla, and hazelnuts. It was a bit drying at the back of the throat. This blend was true to the smell and it's naming and was my favourite in the box (that I tasted).
Type: Black, Oolong, and Herbal (Rooibos) tea
Ingredients: Black Tea, Oolong Tea, Rooibos Tea, Apple Pieces, Cocoa Nibs, Cornflowers, Calendula, Vanilla/Hazelnut/Chestnut/Almond/Walnut Essences
Passion Rose Oolong
The rose petals were visually striking against the dark oolong tea leaves. The dry blend was like smelling a rose with a fruity lingering smell. Like the dry blend, the tan-ish golden liquor smelled fruity and floral. After 5 minutes, the passion fruit was the first taste on the tongue, followed by mango and roses. I find roses/floral blends can be overwhelming floral and the other flavours are not noticeable. So, in this case, I found the fruitiness toned down the floralness. This blend had a nice balance between floral and fruity!
Type: Oolong tea
Ingredients: Oolong Tea, Rose Petals, Mango Pieces, Passionfruit Essence
Plum Puerh
This single-serve puerh tea cake had a cute heart shape and a noticeable rose smell. After brewing for 4 minutes, the cake had fully unfurled. It tasted of roses but was not perfumed. It was also sweet from the plum essence which softened the rose flavour. The puerh rounded out the taste with some earthy notes and a hint of bitterness. I found this fun to watch unfurl!
Type: Puerh tea
Ingredients: Puerh Tea, Rose Petals, Plum Essence
Overall
I found this box (and the caffeine-free one) a lot of fun! When I was tasting the blends, I would randomly pick a new one each day, so it was a surprise and journey. I liked the range of flavours and of the teas I tasted, Toasted Nut Brulee Oolong was my favourite. I appreciated the amount of information provided in the tasting card and online tea guide! This is a great box for someone new to tea, who enjoys blended teas, or to be given as a gift because it has almost everything needed to brew a cup of tea (3.5/5 rating).
Liked this review of Plum Deluxe Tea's 2023 Taste the World of Tea Caffeinated Box? Pin it!